Recently the Aveedo version 5.3.0 was released. With this update many functions were revised and some new ones were added. In the following you will find an overview of the most important changes and new features.
Import & Export of individual Applications
Until now, you could only export complete Aveedo instances with all applications. But from now on you are also able to import and export individual applications. For example this is useful when transferring a single application between a development and a production environment. An export will generate a ZIP file containing the application you selected for the export previously, which you can then easily import back into Aveedo.
Revised Migration Wizard
The Aveedo Migration Wizard transforms existing IBM Notes applications into responsive web applications in a highly automated process. We have comprehensively revised the Migration Wizard and reduced it from five to three or two steps.
Step 1 – General settings: In the first step, select the application that should be migrated and decide whether to migrate only some or all views and forms. You also store some information in this step, such as the application title. Select all views and forms to go directly to step 3.
Step 2 – Select forms and views: If you only want to migrate parts of the application, you can select the corresponding forms and views here.
Step 3 – Done: Carry out the last final tasks and save the application icon, a more detailed description and the start view to that should be opened when the application is launched. Executing the "Done" action migrates the application and is now available in the browser.
Automated Translation and Multilingualism
In a globalised world, languages should no longer be an obstacle. Therefore we have significantly expanded the language management in version 5.3.0. Now translations can not only be created for the entire system but also for specific applications and instances.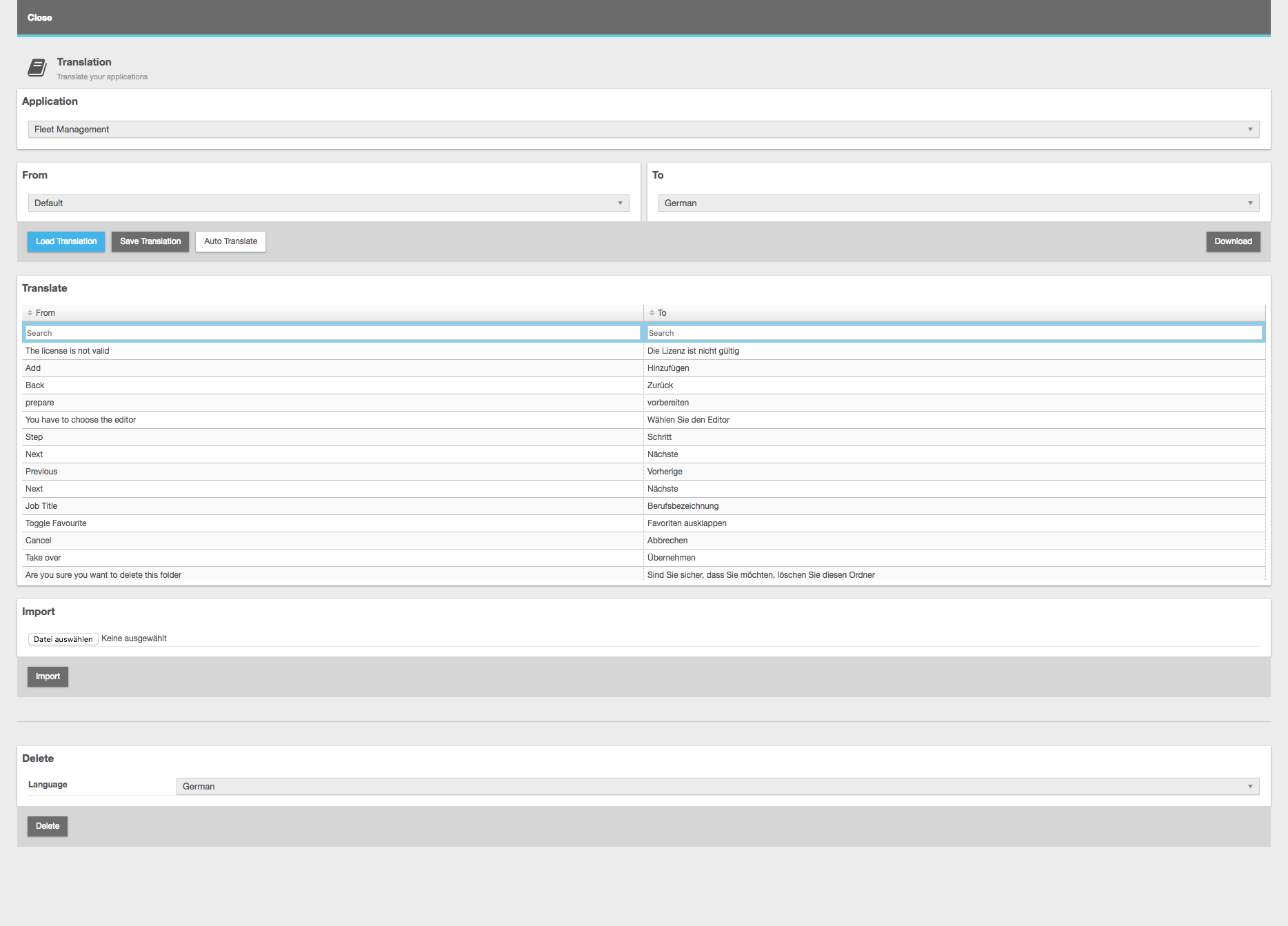 Thus, the translation of terms that are used in different applications with different meanings can now be adapted individually. And with the new automatic translation function in Aveedo Designer, the actual translation is a breeze:
Select the original language and the target language.
Trigger the automatic translation and adjust / improve individual translations as required.
Save translations.
Saving a new language allows users to select and use it in their user settings. If an application is not yet available in the selected language, the system automatically switches to the "default" language the application was originally created with.
If you only want to make optimizations in a translation, the typeahead search now supports you in finding the desired text passages quickly and can correct and save them directly. There is no easier way to translate applications into additional languages.
New Aveedo Theme
Aveedo 5.3.0 also includes the new Aveedo theme. Please note our corresponding news article: